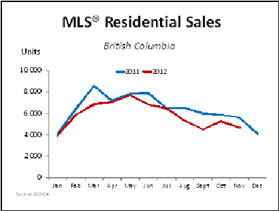 Vancouver, BC – December 13, 2012. The British Columbia Real Estate Association (BCREA) reports that the dollar volume of homes sold through the Multiple Listing Service® (MLS®) in BC declined 24.6 per cent to $2.3 billion in November compared to the same month last year. A total of 4,680 MLS® residential unit sales were recorded over the same period, down 17 per cent from November 2011. The average MLS® residential price was $480,861, down 9.1 per cent from a year ago.
"A slower pace of consumer demand in Vancouver and the Fraser Valley contributed to fewer home sales province-wide in November," said Cameron Muir, BCREA Chief Economist. "While more stringent mortgage credit regulations for low equity borrowers have squeezed some buyers out of the market, the broader slowdown may be a pre-cursor to more elevated activity in 2013, resulting from pent-up demand."
Year-to-date, BC residential sales dollar volume declined 18.7 per cent to $33.3 billion, compared to the same period last year. Residential unit sales declined 11 per cent to 64,626 units, while the average MLS® residential price was 8.6 per cent lower at $515,611.
For the complete news release, including detailed statistics, click here.