The latest data for February indicates that prospective home sellers in Metro Vancouver are still hesitant to participate in the housing market, resulting in below average sales activity and a subsequent increase in the number of available homes for sale. According to the Real Estate Board of Greater Vancouver (REBGV), there were only 1,808 residential home sales in February 2023, a decrease of 47.2% from the previous year. The sales activity was also 33% below the 10-year February sales average.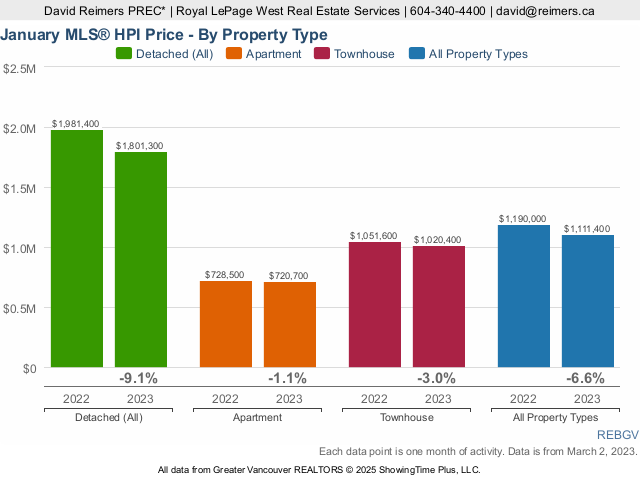 Andrew Lis, REBGV's director, economics and data analytics, explained that with new listing activity remaining among the lowest in recent history, sales are struggling to hit typical levels. However, the below-average sales activity has allowed inventory to accumulate, which has kept market conditions from straying too deeply into sellers' market territory, particularly in the more affordable price segments.
There were only 3,467 newly listed detached, attached, and apartment properties for sale in Metro Vancouver in February 2023, a decrease of 36.6% compared to the previous year, but a 5.2% increase compared to January 2023. As of February 2023, the total number of homes listed for sale on the MLS® system in Metro Vancouver was 7,868, a 16.7% increase from the previous year, and a 5.2% increase from January 2023.
Despite the expected decline in home prices, data and market activity suggest that pricing is firming up. Some leading indicators suggest that modest price increases may occur this spring, particularly if sales activity increases and mortgage rates hold steady, Lis said. In the current market environment with higher mortgage rates, fewer sales, and inventory that is inching higher, working with a REALTOR® who understands local market conditions and has experience navigating challenging markets is crucial.
The sales-to-active listings ratio for February 2023 for all property types is 23%, with ratios of 16.8%, 30.1%, and 25.8% for detached homes, townhomes, and apartments, respectively. Analysts suggest that downward pressure on home prices occurs when the ratio remains below 12% for a sustained period, while home prices often experience upward pressure when it surpasses 20% over several months.
The MLS® Home Price Index composite benchmark price for all residential properties in Metro Vancouver is currently $1,123,400, representing a 9.3% decrease from the previous year and a 1.1% increase from January 2023. In February 2023, sales of detached homes reached 514, a decrease of 49.1% from the previous year, while sales of apartment homes decreased by 49.9% to 928. Attached home sales in February 2023 totaled 366, a decrease of 34.6% compared to the previous year. The benchmark price for detached properties is $1,813,100, for apartments, it's $732,200, and for attached units, it's $1,038,500.