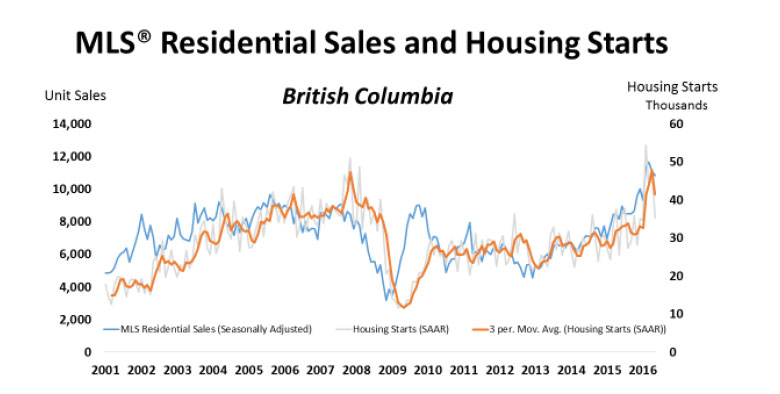 Vancouver, BC –June 15, 2016. The British Columbia Real Estate Association (BCREA) reports that a record 13,458 residential unit sales were recorded by the Multiple Listing Service®; (MLS®;) in May, up 32.3 per cent from the same month last year. Home sales last month exceeded April's record of 12,969 units. Total sales dollar volume was $9.72 billion in May, up 51.1 per cent compared to the previous year. The average MLS®; residential price in the province was up 14.2 per cent year-over-year, to $722,146.
"Record housing demand and dwindling inventories are continuing to push home prices higher in most BC regions, "said Cameron Muir, BCREA Chief Economist. "Total active residential listings across the province are nearly 30 per cent lower than twelve months ago."
"New home construction activity is at a near record pace in the province," added Muir. In the Metro Vancouver market,a record number of homes are now under construction. "Once the current crop of homes are ready for occupancy there will likely be more selection for home buyers and less upward pressure on home prices."
Year-to-date, BC residential sales dollar volume increased 62 per cent to $41billion, when compared with the same period in 2015. Residential unit sales climbed by 35.2 per cent to 54,455 units, while the average MLS®; residential price was up 19 per cent to $752,105.
To view the full BCREA Housing Forecast Update, click here.
BCREA is the professional association for over 20,000 REALTORS® in BC, focusing on provincial issues that impact real estate. Working with the province's 11 real estate boards, BCREA provides continu ing professional education, advocacy, economic research and standard forms to help REALTORS® provide value for their clients.
To demonstrate the profession's commitment to improving Quality of Li fe in BC communities, BCREA supports policies that help ensure economic vitality, provide housing opportunities, preserve the environment, protect property owners and build better communities with good schools and safe neighbourhoods.
For detailed stati stical information, contact your local real estate board . MLS® is a cooperative marketing system used only by Canada's real estate boards to ensure maximum exposure of properties listed f or sale.